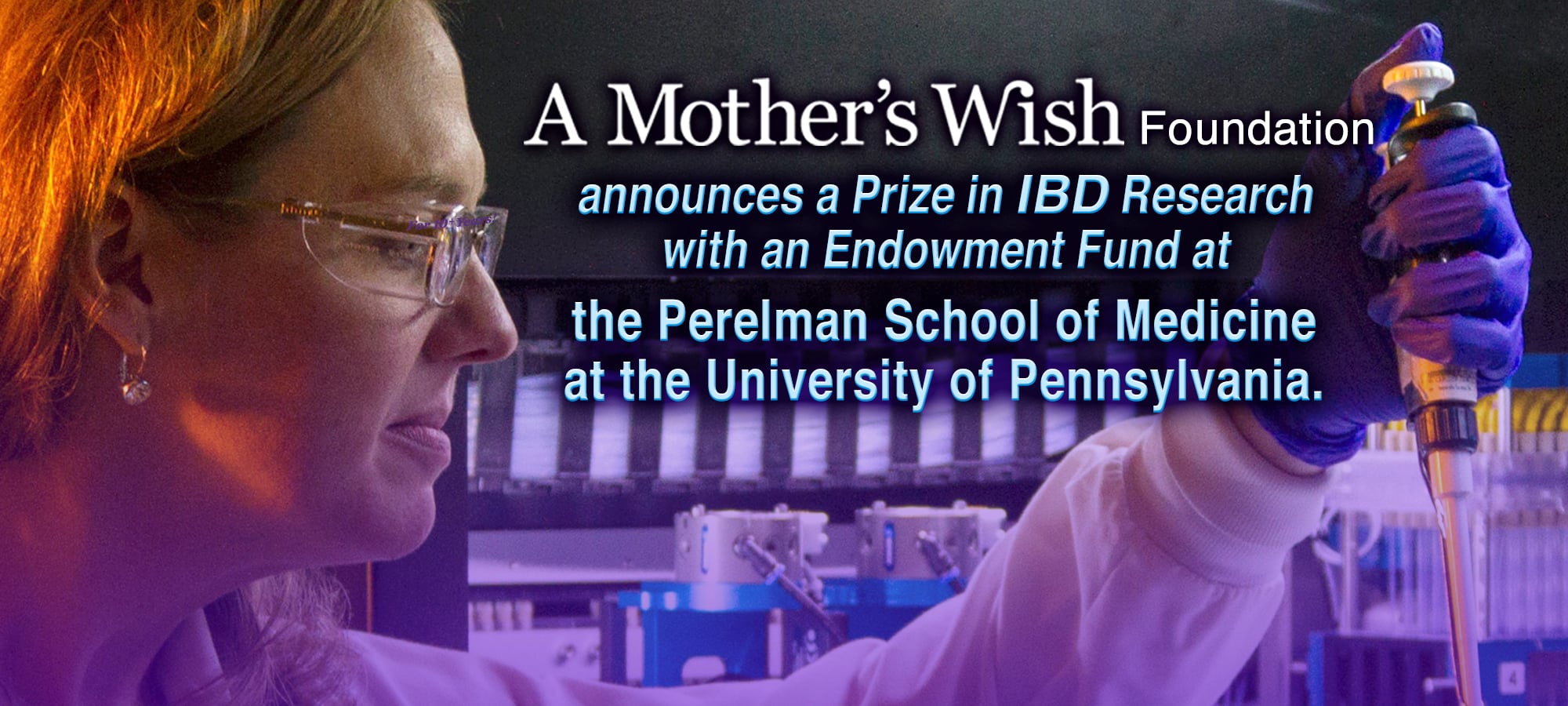 A Mother's Wish Foundation is so excited to announce the establishment of an Annual Prize in IBD Research with an Endowment Fund at the Perelman School of Medicine at the University of Pennsylvania.
What is A Mother's Wish Foundation/University of Pennsylvania Hospital Fund's Mission? To help find a cure for Crohn's Disease and Ulcerative Colitis by attracting top minds & talent. A Mother's Wish Foundation will be a constant and continual resource for the betterment of our IBD community by supporting these efforts at Penn Medicine forever.
What is the Fund? This annual financial award attracts and rewards top talent and minds supporting basic and /or clinical research in Inflammatory Bowel Disease (IBD).
What purpose does it serve? To recognize the importance of supporting future leaders in IBD research at Penn.
How are the candidates selected and by Who? Recipients are selected from Junior Faculty, Fellows, Residents & Medical Students who excel in research and clinical trials in the IBD field. Nominees will be chosen by a committee led by the Associate Chief for Research, Division of Gastroenterology, currently Dr. Gary Wu, M.D., and Gary Lichtenstein, M.D., (and their successors).
Who are We?  A Mother's Wish was formed by a group of mothers whose families and friends have been impacted by Crohn's disease and Ulcerative Colitis.  We contribute to families in need who are dealing with Crohn's as well as organizations researching treatments for the disease.
Why donate to us? We are an all-volunteer run foundation, which means 100% of the money raised through our foundation goes directly to our cause.
Your Invitation- We invite you to make a contribution to our AMW/Penn Endowment Fund online or by attending one of our events to join our fight and make living with this insidious disease a thing of the past.
ANNOUNCING OUR WINNERS OF OUR ENDOWMENT:
Dear A Mother's Wish,
I'd like to share with you the terrific news that Nichole M. Belle, MD, https://www.pennmedicine.org/providers/profile/nicole-maloney-belle PhD (cc'ed) has been chosen by the selection committee as the inaugural recipient of the "A Mother's Wish Foundation Prize in IBD Research". She is an outstanding young investigator studying important facets of intestinal epithelial and immune function related to IBD. Christian Hyde will be providing additional information about Nichole that you can share with the members of your Foundation. Nichole would be delighted to participate in your fund-raising event in the fall.
If you have any questions, please let me know and thanks again to you and your Foundation for the gift supporting this award program in IBD research for the Perelman School of Medicine at the University of Pennsylvania.
Best, Gary
Gary D. Wu, MD
Ferdinand G. Weisbrod Professor in Gastroenterology
Director, Penn Center for Nutritional Science and Medicine
Co-Director, PennCHOP Microbiome Program
Co-Director, Center for Molecular Studies in Digestive and Liver Diseases
Perelman School of Medicine, University of Pennsylvania
915 BRB II/III, 421 Curie Blvd, Philadelphia, PA 19104
Phone: 215-898-0158
Fax: 215-573-2024