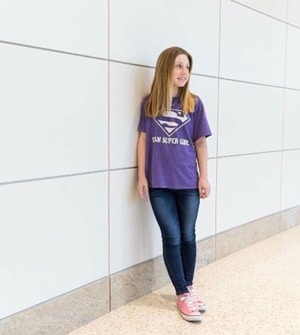 Our very own Paige has been chosen to be a walk ambassador at CHOP's Walk for Hope this year! We are so proud of you Paige.????
This is her story of courage and strength…
"When Paige was seven years old, every few weeks she would come down with a fever. Her pediatrician ordered blood tests in April 2014, which showed elevated numbers and a severe iron deficiency. Paige was referred to Dr. Julie Stern in CHOP's hematology department. After a few follow up tests, Dr. Stern ultimately determined Paige would be better treated by CHOP's GI department. Unfortunately, the GI department takes months to see a doctor, but Dr. Stern was able to get Paige seen within two days. There were more and more tests with varied results, but we all knew something was wrong. On June 3, 2014 Paige had an upper endoscopy and a colonoscopy. The doctor performing the procedures was pretty confident Paige had IBD, in the form of Crohn's disease.
The first treatment was prescribed in pill form. Paige wouldn't swallow pills, so we would break them open and mix them into apple sauce. Seeking a second opinion, we met with Dr. Kevin Kelly and decided at that time to leave CHOP for Paige's treatment. Dr. Kelly and his staff were amazing. We felt like family every time we were in his office or during the frequent phone calls we made to his office. After the initial shock and sadness wore off, we were determined to help her while avoiding any scary medications that are often prescribed to treat Crohn's. From different diets to various supplements (sometimes 7-8 a day), to acupuncture, we tried everything. We spoke with people all over the country and even drove to a holistic wellness center in New Hampshire. All seemed to help for awhile but her symptoms eventually returned. By the winter of 2015, Paige was still not feeling well, or as well as we would have liked. She had a MRE test, which showed her disease was progressing. The recommended treatments were Remicade or an NG feeding tube. Again, trying to avoid the scary medications, we chose the feeding tube. Paige learned quickly to drop her tube at night, hook up to her feeds, and remove the tube in the morning before school. All of this is from a girl that refused to swallow a pill!! But this she could do with no problem. Within a day or two, she felt amazing! We were so thrilled and we hoped that we finally found the answer. We still monitored her diet and stayed away from certain foods that hurt her belly. She was feeling fantastic and we were beyond thrilled! This continued for a few months, but in the spring of 2016 Paige had strep throat, a sinus infection, and then the stomach bug, so she was on and off antibiotics and unable to do her feeds. This lasted for a few weeks. When she was healthy and re-started her feeds, they were not working like they had before. We continued trying for a few more weeks, but eventually Paige ended up in CHOP's ER department. This is when we met Dr. Kastl and Dr. Grossman. Around the same time, we decided to move back to CHOP for her primary care. She ended up in and out of the hospital staying a total of 18 days that summer. She was on a liquid diet and, at this point, surgery was needed. In August, Paige had a significant portion of her small intestine removed. It was also determined that the best chance to avoid recurring issues was to start treating with Remicade. She had her first 2 doses in the hospital and now goes every 8 weeks to the hospital to get her infusions. After her surgery, Paige was up and moving around that day. The doctors and nurses were amazed at her strength and determination to do everything without help. She wanted out of the hospital ASAP!! Two days after surgery, she was sent home. Within two weeks, she was back to all normal activities. She is thriving and living life pain free! She is growing and gaining weight! We are so thankful for the support from our family and friends. We are also thankful for all of the amazing nurses and doctors that got her to this point, and who continue to take care of her. This disease is not easy but it is shaping her into one strong little lady and we are so proud to be her parents."