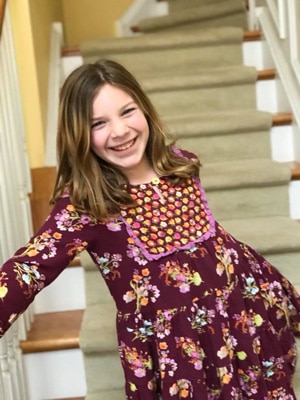 Gabriella loves to dance, play soccer, and swim. She made the travel soccer team this past year, dances ballet, tap and jazz, and swims competitively. She swam a 100 yard medley for the first time this winter! Pretty impressive for any kid but especially one with a chronic autoimmune disease! She is a rock star student and a fabulous big sister to her younger brother and sister. She also loves watching JoJo Siwa on lip sync battles, making slime, and playing school with her friends in her free time.
Here is Gabriella's story of courage and strength…
Gabriella was diagnosed with Crohn's Disease when she had just turned 5 years old. She had started having blood in her stool and was being worked up by her primary doctor when things worsened suddenly around the holidays. A GI consult and stat scopes revealed she had severe IBD. She spent about 10 weeks in the hospital over those first 4 months when she was diagnosed. She had 2 sets of scopes, dozens of blood draws, 4 blood transfusions and saw at least a dozen GI doctors. She had numerous complications including repeated UTIs, unexplained high fevers, and cdiff. After seeing Dr. Kelson at CHOP and making the tough decision to start Remicaid, Gabriella finally started getting better. She hasn't been in the hospital since that discharge after starting Remicaid 4 years ago.
Four years ago when Gabriella was first diagnosed, she was on so many medications I needed my phone to alarm me every couple of hours so I could give her one of the many medications she was supposed to take. Now she only takes Methotrexate, folic acid, Remicaid and Omeprezole with occasional iron infusions. She has had some setbacks over the years, repeated scopes, pill cams, and some other medications but right now things are back to being great! Her doctors are currently trying to push back her Remicaid to longer intervals.
All of the doctors and nurses that Gabriella has met and that have helped her along this journey hold a special place in our hearts. Without them and their work to continue to find ways to cure IBD, Gabriella wouldn't be able to be the active healthy kid she is today.
After diagnosis of a chronic disease that has no cure, I think as a parent you go through a period of mourning. You mourn the loss of your healthy child. But-with the help of your family, friends, doctors and nurses –you move on. In fact, we are all stronger now than we were 4 years ago. These days Gabriella and I drive down to the main campus of chop every 4 weeks for a 3 hour Remicaid infusion which she tolerates like a champ! When Gabriella started Remicaid it was a very traumatic experience for her to get her iv placed. But now her nurses tell her she's the model patient and could even give lessons! I try to make her infusions as fun as possible and we play lots of games during our time there and Gabriella gets to order whatever she wants from the cafeteria on those days for dinner. Our family has eliminated almost all processed foods and limits sugars. We follow the Inflammatory Diet-lots of fruits, vegetables, lean meats and whole grains. With no history of IBD in our family, we really did not know much about it 4 years ago. Knowing what we know now, though, we try to help others understand the disease, its difference from IBS and to help spread awareness of its growing prevalence and need for a cure. We started participating in the CHOP Walk for HOPE a few years ago to help Gabriella feel more empowered and for her to actually see the support she has with her diagnosis and in whatever obstacles may lie ahead. We do have to be more aware of any illnesses Gabriella gets or is exposed to since she is on immunosuppressants. As a parent, I worry a little more than I used to, but spending weeks and weeks in a children's hospital gives you a new perspective as well. So for now we take one day at a time and we are greatful for the doctors who have given Gabriella back her childhood.