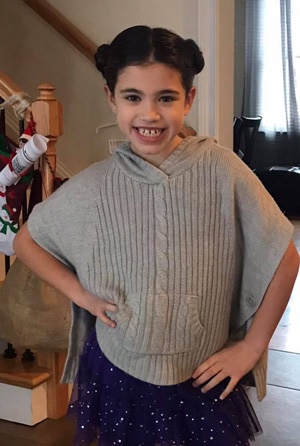 Emilia is a fun loving, spirited, energetic 9 year old with Crohn's disease. She loves to dance and spend time with her sister Nina (7) and her friends. She is a red/black belt in karate and will be testing for her junior black belt in the spring. She loves running and is involved with the Girls on the Run program at Skippack Elementary. She also plays tennis and basketball. Emilia is one busy girl!
Emilia lives with her mom and dad (Sabrina and Mickey) and little sister, Nina. The girls are so close, and most people think they are twins! Emilia was diagnosed with Crohn's disease in June 2017, after six weeks of high fevers, GI distress, and a lot of missed school. Emilia visited the ER many times through those six weeks, but it wasn't until she was able to see Dr. Panganiban, a GI Specialist and Children's Hospital of Philadelphia, that she was admitted immediately. Emilia needed a blood transfusion and her weight had plummeted. She was 8 years old and weighed only 45 pounds. She underwent scopes while in the hospital, which confirmed that she did in fact have Crohn's Disease. Her vast internal ulcerations were reason enough for the doctors to immediately begin Remicade infusions. She missed her last few days of school, but her class facetimed her which was awesome!
Currently, Emilia visits CHOP every eight weeks for Remicade infusions, and most recently started iron infusions. Sabrina and Mickey feel that the doctors and nurses at CHOP have been amazing. They listen to their concerns and answer any questions they may have about their daughter's illness. The family has participated in support groups and find them to be very helpful. Since her diagnosis, Emilia's family is more cognizant of the quality of food the family eats and the amount of sleep that she gets. They also try their best to keep her from being around people who are sick due to her weakened immune system. They say that this is especially hard in a school setting.
This past Christmas Emilia left a note for her 'elf on the shelf' telling Santa that all she wanted was to not have Crohn's disease. Her parents explained to Emilia that new treatments are being developed and eventually there will be a cure for Crohn's. They discuss the option of remission with her often. She has recently been involved in a clinical trial and it gives her a sense of accomplishment to know it may help someone.
Honestly, you would never know Emilia had Crohn's if you recently met her because of her high energy. She just doesn't stop!! Her parents are so thankful for her positive attitude and spunk! And we are thankful to Emilia for sharing her story with us.