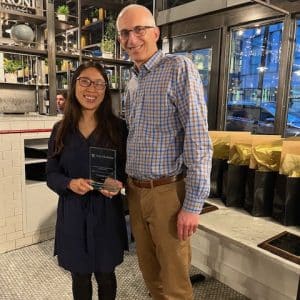 Dear Laura and all at the A Mother's Wish Foundation,
Via this email, I'm proud to introduce to you Dr. Chung Sang "CS" Tse, the 2023 recipient of the A Mother's Wish Foundation in IBD Research at Penn. CS is a terrific clinician and investigator who has had a significant impact on the lives of parents suffering from IBD. Here is a short bio about her.
Chung Sang Tse, MD, is a board-certified Gastroenterologist and Assistant Professor of Clinical Medicine at the University of Pennsylvania. Dr. Tse is an academic clinician-scientist with a clinical focus on inflammatory bowel diseases, specifically Crohn's disease and ulcerative colitis. Her research is focused on addressing the non-inflammatory drivers of disease burden in inflammatory bowel diseases, including areas intersecting with healthcare delivery, healthcare utilization, health disparities, interdisciplinary care, and psychosocial health. Dr. Tse obtained her medical degree from the Yale School of Medicine and thereafter completed her residency in internal medicine at the Mayo Clinic, fellowships in gastroenterology and women's gastroenterological health at the Warren Alpert Medical School of Brown University, and Advanced Inflammatory Bowel Diseases Preceptorship at the University of California, San
Diego.
Thanks very much the support of the Foundation for IBD research at Penn.
Best, Gary
——————
Gary D. Wu, MD
Ferdinand G. Weisbrod Professor in Gastroenterology
Director, Center for Molecular Studies in Digestive and Liver Diseases Director, Penn Center for Nutritional Science and Medicine Co-Director, PennCHOP Microbiome Program
Perelman School of Medicine, University of Pennsylvania
915 BRB II/III, 421 Curie Blvd, Philadelphia, PA 19104
Phone: 215-898-0158 Fax: 215-573-2024